If you have been following our quarterly newsletters you'll have seen our new column by the Unconventional Hairdresser.
At our pHd Hairdressing salon in Malvern, organics is more than just a business choice, it is a lifestyle. Our interest and expertise extend beyond the basics and we want to share that knowledge with our clients and beyond.
Plenty of people mistakenly believe organics to be, at best, less chemicals and more environmentally friendly packaging. At worst, they see it as an excuse to charge higher prices for less effective results. More worrying than this is that many people believe organics are a 'nice to have' or a luxury.
The whole team works hard to share their hard-earned understanding of organics with our clients because it really matters to us. We believe that what you put on your skin is as important as what you eat.
We know that this is unconventional, but we also know it's really important. The organic products we source and use in the salon are rivaling the mainstream, chemical laden, products. We use them confident in the knowledge that they don't contain chemicals that can and do harm our skin, well-being and the environment. Everything we use is cruelty free, never tested on animals and an increasing range is vegan friendly. Even the packaging has been carefully considered to produce minimal waste and environmental harm.
This really matters to us and we want it to matter to you. So, we are delighted to be able to introduce our new regular guest blog, The Unconventional Hairdresser. We'll be sharing regular blogs from the unconventional hairdresser to give us an in-depth insight into the world of organic hair and beauty. She'll also be exploring the reasons that motivate our salon and the reasons why we think everyone should go organic.
So, without further ado, let us introduce the Unconventional Hairdresser.
The Unconventional Hairdresser – Question Everything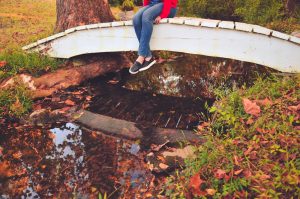 I have been so fortunate in my life to be so many things to so many people. All of them require me to be passionate, creative and a good listener. A mother, a wife and a hairstylist.
It may sound silly to some but you can experience so much down this path that I have taken and I would like to share some stories with you as well as helpful advise, tips and tricks of the trade and, most importantly, my passion for the world we live in, for life itself and the industry.
The story so far….
I hope you enjoy my blog. Although it may be a little controversial at times it is written with passion and a genuine love for the industry, people and our environment. Changing the way people think or provoking a question about health and Chemical usage and making people aware so that they can make an informed decision is one of the most important things that I would like to achieve.
Human nature tells us to take people at face value and to trust- but sometimes the only way is to QUESTION EVERYTHING!
Originally posted at The Unconventional Hairdresser website.
The Unconventional Hairdresser is otherwise known as pHd owner and director, Claire Gilbraith.
You don't have to spend a lot of time with Claire to realise that she is serious about her passion for organics. This is far more than a business choice for Claire, it's a way of living. Her interest in this topic doesn't just encompass the products she chooses for use in the Malvern salon, or the ingredients she uses in her home, it permeates every aspect of her life. It's safe to say, that she knows quite a bit about it!