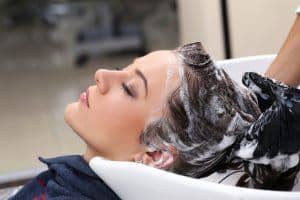 At PureHair we are thrilled to offer our clients the amazing Treat.Me treatment especially tailored for your scalp and hair.
This luxury deep-treatment for your hair is naturally gorgeous! The price is a delight too, for just £15, we can add a little piece of heaven to your hair appointment.
First, with our expert advice, choose the perfect Treat.Me cruet for you. There are four different treatments to suit your specific hair needs; Anti-ageing; Moisture; Strength or Thickening, choose just one or combine two to uniquely cater to your hair. Whichever treatment you use, your hair and scalp will be left feeling completely rejuvenated from root to tip.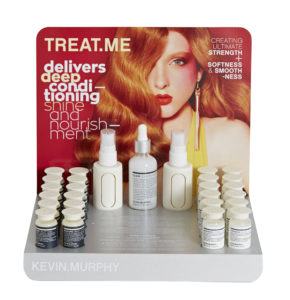 Relax at our basins while we expertly apply your chosen treatment to your hair in the form of a blissful head massage. These wonderful massages consist of the application of gentle pressure and movement that will relieve any tension in scalp while you let your mind wander. Once the treatment has been applied throughout your hair, your head will be wrapped in a warm towel. The warmth is not only relaxing it will also open the pores and intensify your treatment so that it works deep into the scalp and hair follicles.
Once the Treat.Me has had time to work it's magic it will be rinsed away and we will dry and style your hair as normal.
This luxurious treatment will continue to work in your hair for up to six weeks, meaning that you don't need to worry and treating your hair in-between appointments.
Make sure to ask your stylist about our brand new Kevin Murphy Treat.Me cruet treatments and discover the benefits for both your hair and well-being.