The Repair.Me range from Kevin Murphy is great for hair that's brittle and damaged. We also think it's a lovely moisture range that is so light it can even be used on finer hair.
We thought this would be the perfect range to start the New Year with!
We love the whole Repair.Me range, Repair.Me Wash and Rinse, Leave.in.repair and the amazing Restore.Me. Superfood for the hair, they're packed full of good-enough to eat (but don't) ingredients like pineapple, papaya and green pea protein. This might sound like a smoothie recipe, but it strengthens hair from root to tip.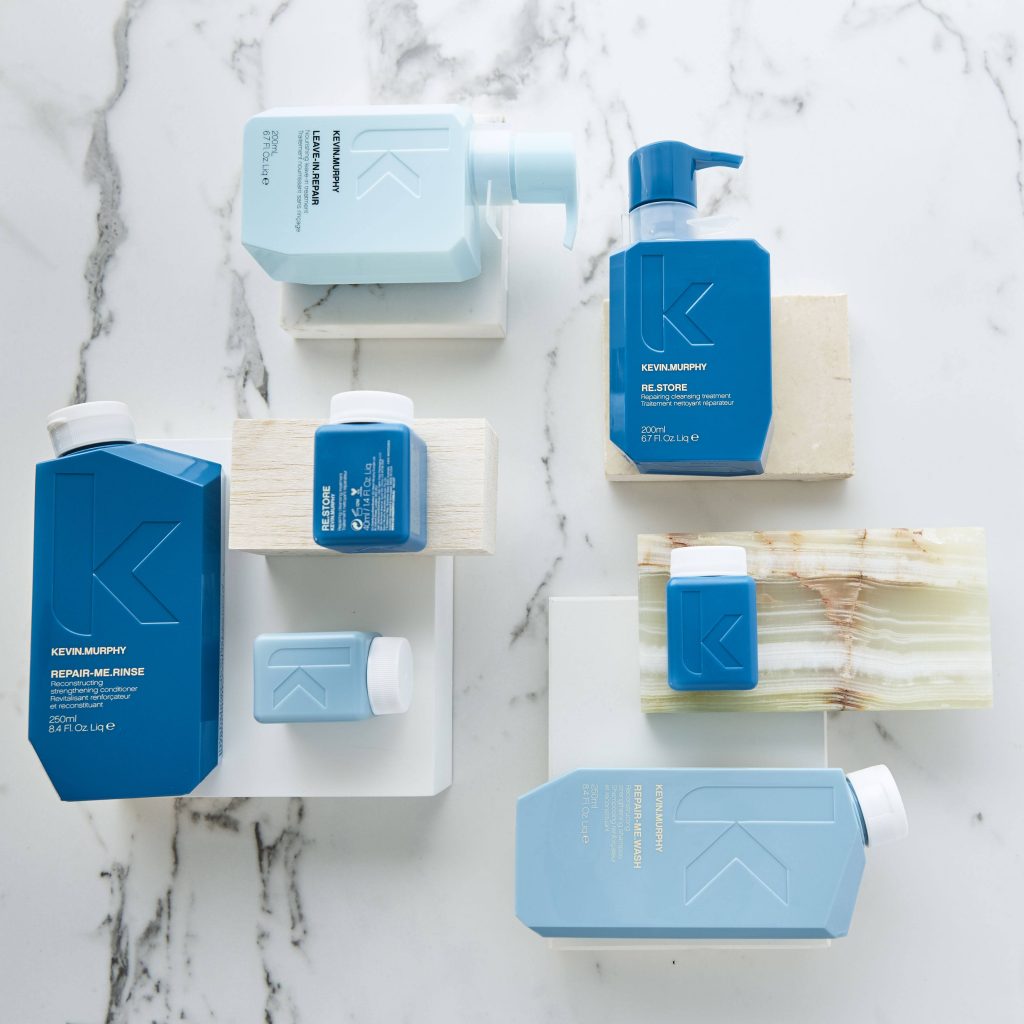 Repair.Me.Wash
Get your hair squeaky clean with the Repair.me.wash. Bamboo and Nettle extracts reconstruct and protect hair and silk amino acids add hydration.
Apply a 10 pence piece size amount to wet hair and massage in well, rinse and repeat.
Repair.Me.Rinse
Follow up with the rinse for an aloe vera boost for shine. Shea butter moisturises and acai (vitamins a,c and e) to repair the hair strands.
Use a 10 pence sized dollop and massage through the hair then brush through – we love the Wet Brushes which are great at tackling tangles painlessly. Rinse thoroughly.
Leave.In.Repair
For ongoing protection for dry hair we recommend you follow up with Leave.In.Repair. We love this conditioning lotion because it can be used on wet or dry hair.
For short, fine hair you just need a 5 pence size amount, go to 10 pence for longer or thicker hair.
Jojoba seed oil adds elasticity and bamboo gives your hair a gorgeous shine. Keratin works to rebuild your hair's core strength between washes. While rose an geranium antioxidants protect your hair from day-to-day toxins.
Restore.Me
If you have really dry or very damanged hair, we just can't recommend Restore.Me enough, it's amazing. Kevin Murphy designed Restore.Me to rebuild and reconstruct hair that is beyond help. Not only is it a wonderful moisturising treatment for your hair, but it also cleanses so it's a three in one product that can replace shampoo and conditioner!
Apply a 10 pence piece amount to thoroughly rinsed hair and massage in. Leave on for 2-3 minutes before rinsing out thoroughly. Remember this product replaces your shampoo and conditioner when used. Use once a week for approximately 6 weeks to improve hair's condition and structure.